– Dr. Mukta Tathavadekar
World has started witnessing adverse effects of extensive use of fossil fuels on our environment and people now realize the importance of renewable energy. However, incorporating renewable energy into our day-to-day life is still a big challenge. The intermittency of renewable energy sources is the main hurdle, and this problem can be solved with the use of energy storage systems. One can say that energy storage systems are as important as energy generation by renewable energy sources. Hydrogen is one of the promising candidates as a large-scale energy storage technology. Hydrogen is generated from the electrolysis of water which can be used in fuel cells, gas grid, or combustion for heat generation, etc. The only problem with the use of hydrogen is it involves a complex thermal management system and the lowered energy density and power density as you increase the system size.
Researchers from the Tokyo Institute of Technology, Japan have proposed a new way of storing energy: Carbon/air secondary battery (CASB). In this system, the first CO­2 undergoes an electrolysis process to form carbon where the energy requirement is fulfilled by renewable energy (Boudouard decomposition reaction). This is defined as the charging process. During discharging process, carbon formed by electrolysis is oxidized to generate energy (Boudouard gasification reaction). These charging-discharging processes take place in electrolysis cell – solid oxide fuel cell (EC-SOFC) respectively.
The newly proposed CASB system has successfully shown 10 charge-discharge cycles. CASB demonstrates high coulombic efficiency of 84% and charge-discharge efficiency of 38%. The impressive power density of 80 mW/cm2 is achieved by CASB at 800 ℃ and 100 mA/cm2. CASB is believed to have a smaller size and higher system efficiency than hydrogen-based systems. Moreover, it is expected to demonstrate higher volumetric energy density than lithium-ion batteries as well as hydrogen-based systems. Authors believe that further development of materials and structural aspects will improve that CASB's overall performance.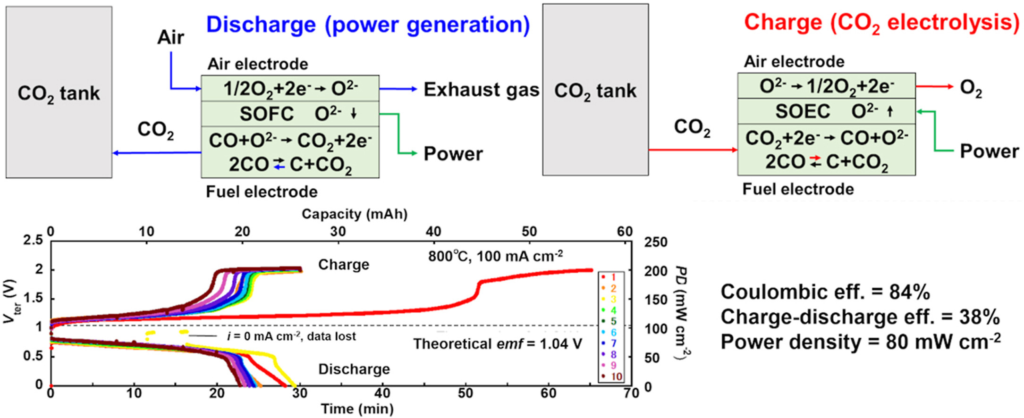 Please see the following news Source(s) and original reference(s) therein:
(Source: doi.org)