–Dr Mukta Tathavadekar
"Choose the field of research because it excites your imagination"- Prof. Rohini Godbole
Prof. Rohini Godbole is an inspirational women scientist in the world of STEM. If you take a close look at her life journey, you'll realize that she has shown an exemplary commitment and passion for the field of particle physics. She is an avid supporter of the cause of women in science and is working towards the facilitation of more active participation of women in the scientific workforce.
She is a particle physics professor at the center of High Energy Physics at the Indian Institute of Science in Bangalore. She began her education in science from Sir Pershurambhau College, Pune where she was a first rank holder in the university and decided to follow her immense interest in physics. The seeds of her journey in particle physics were sown during her master's in Indian Institute of Technology Bombay. Being a bright student, she completed her M.Sc. with a silver medal. She further pursued Ph.D. from S.U.N.Y. at Stony Brook in U.S.A in 1979. After completing Ph.D. she decided to come back to home country India and continued to work in TIFR, University of Bombay and now in IISc.
Prof. Godbole has won several honors, awards, and prizes. In 2019 she was honored with Padma Shree in the field of Science and Technology, the fourth highest civilian award given by Republic of India. She is also a recipient of the prestigious Ordre National du Merite, Civilian Honor of France, 2021. A fellow of The World Academy of Sciences, National Academy of Sciences, Allahabad, Indian National Science Academy and honorary doctorates by many institutes are few more accolades that she received for her research. She is a recipient of the Lifetime Achievement Award of the Karnataka Science and Technology Academy in Science, Technology, Engineering, Agriculture, Medicine (STEAM)', January 2021 proving to be exemplary for the fellow researchers.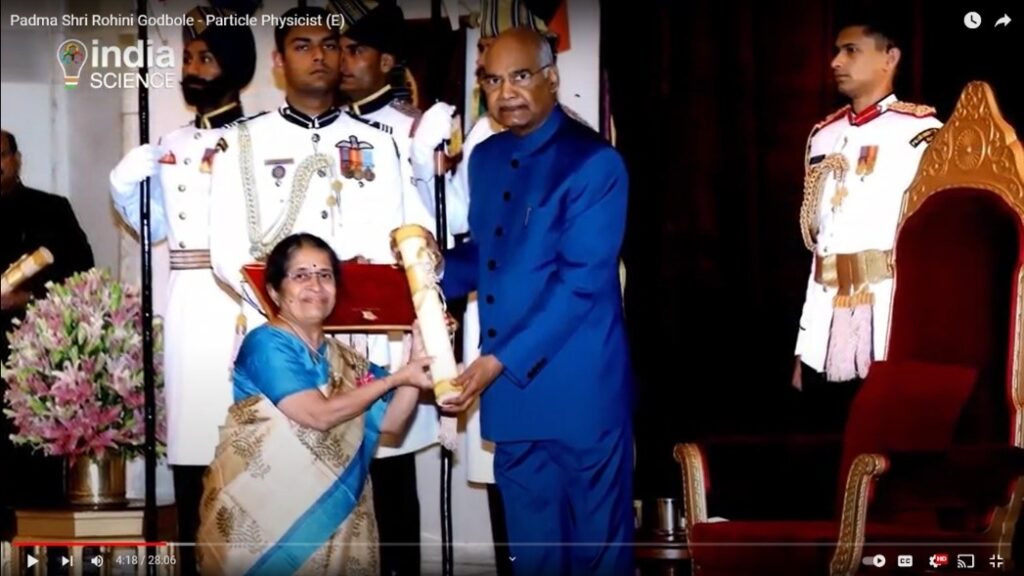 Prof. Godbole has worked extensively on different aspects of particle phenomenology over the past three decades, on exploring different aspects of the Standard Model of Particle Physics and the physics beyond it. Her work regarding hadronic structure of high-energy photons outlined a variety of ways in which to study it and has had implications for the design of next-generation electron positron colliders. She is in the International Detector Advisory Group for the international linear collider at CERN. Her exceptional work in this field is reflected in terms of number of published research articles in international journals. She has written a book on the Theory and Phenomenology of S particles.
Apart from being a successful women scientist, she has been consistently working on inspiring and motivating women researchers in the world of science. She often talks about the gender bias in the field of science and how it is affecting the overall progress of the scientific world.  Apart from pursuing her passion for research in pure sciences, she has always encouraged joining of more women in this field. Active participation of women in science can facilitate a multidimensional growth of scientific aspects, is what she believes in. In one of the speeches she had given when she chaired the 'Committee on Equity in the draft STIP policy' she said, "In my 40 years in the world of science in India and outside, I have seen women who are smart and intelligent and could have made an impact in the field of science. Somewhere along the entire process, they could not do so, and what drives me to push for women in science programs is that this missing contribution needs to be brought back. Science needs to bring back these women." She has also authored collection of biographical essays "Lilavati's daughters" which takes an account of about 100 women scientists who should be acknowledged for their work. The title of the book is named after the earliest mathematician 'Lilavati' and all other women scientists described in the book are thought to be her daughters, hence the beautifully thought title "Lilavati's daughters". She motivates women in science by saying, "If you have aspiration and passion for science, take a step ahead and take your passion to new heights and opportunities shall wait for you".
(All rights reserved. This article is a joint property of Dr. Mukta Tathavadekar and S&T Digital. No part of this article may be reproduced or used in any manner without written permission)