-Dr. Rohini Kitture.
Humans, the highly evolved species on the planet, always strive to develop the best of everything. Be it the invention of wheel or fire to ease few tasks or developing satellites/space stations to seek more about the universe, humans always try to conquer the limitations and explore more. This exploration sprouted in all the fields, including the agriculture sector, which could witness tremendous developments. However, the traditional farming being much dependent on weather conditions was started being considered a riskier business, as against the other options. This limitation was overcome by an interesting development in renewable energy sectors, known as solar farming, having lesser dependencies on weather condition. As this offered guaranteed income, higher return on investment, most of the farmers across the globe started giving up their tradition farming upon the solar farming.
Now, this seems really fascinating, as solar farms are addressing the highly growing demand of energy and proving to be the best alternative to the diminishing non-renewable source of energy. But this brings another concern in the focus, that if higher portion of land is used to generate energy, where will the food be grown? How to deal with this issue of limited space and address the growing demand of both food and energy? A group of French scientists lead by Christophe Dupraz coined this next level term: agrivoltaic, growing crops (Agriculture) under the solar panel(photovoltaic), in the same land, wherein the panels which convert sunlight into energy, are lifted off the ground, offering the space underneath the grow the crops.
This, apart from offering enough space for crops, lets right amount of sunlight reach the crops, which in turn offer cooling to the panel above. Moreover, the solar panels, acting as roofs to the crops prevent excessive evaporation. (Save this point for later, something interesting in this context to come up in next article!)
Through a pilot project near Lake Constance bordering Switzerland, Germany and Austria, wherein around 720 bi-facial solar modules were mounted high enough to let the enough sunlight reach the crops underneath, the researchers from the Fraunhofer Institute's for Solar Energy Systems found that the land's productivity increased by 60%.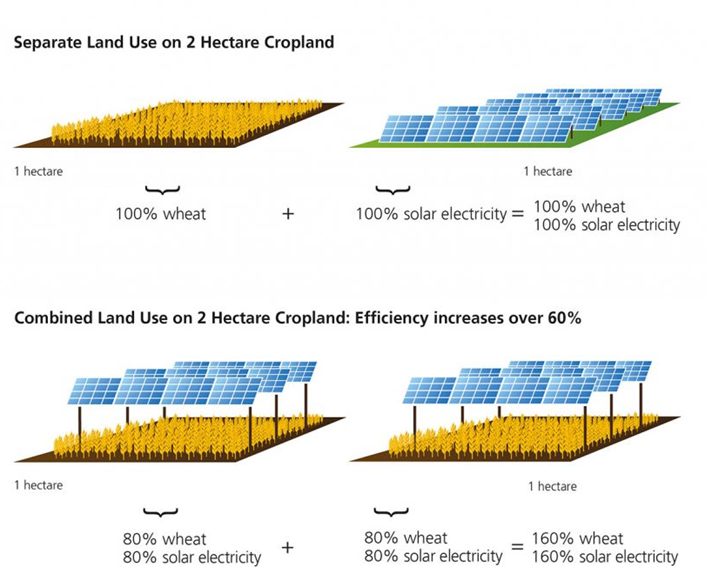 Picture courtesy: https://metsolar.eu/blog/what-is-agrivoltaics-how-can-solar-energy-and-agriculture-work-together/ This twofer, increases the land's productivity by using it for two different purposes, generating food and energy and offering good revenue as well. Isn't it a win-win-win situation!

Please see the following news Source(s) and original reference(s) therein:
(Sources : What is agrivoltaics? How can solar energy and agriculture work together? (metsolar.eu) Agriculture: the Agrivoltaic Approach – With Video (cleantechnica.com))